"Make a positive difference and be of benefit in the world".
"Create a kinder, more compassionate and happier world".
Welcome to 2020 and the dawn of a new decade!
The past is now behind us. We now have the future ahead of us with an opportunity to join together to make greater positive transformation for the highest common good in our world.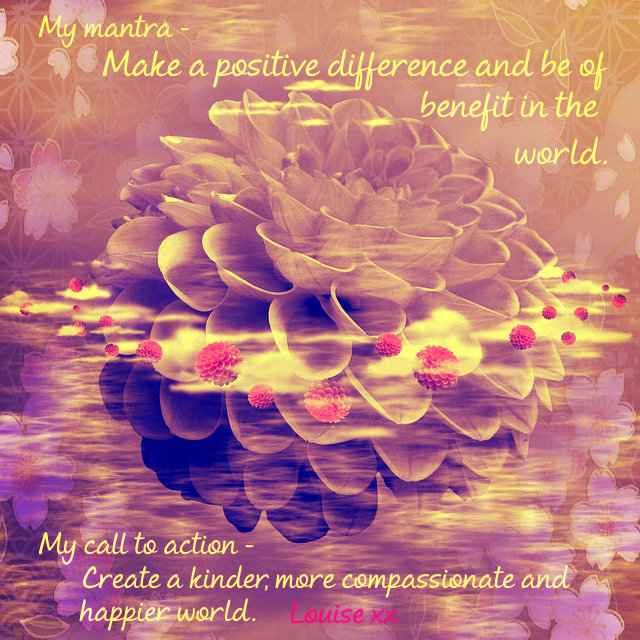 I started this morning with an extended meditation and contemplating my higher intentions (more on setting intentions in a later post) for the coming year. I will be stepping up to be even more mindful to awaken my mantra and call to action through my body – actions, speech – words and communication and mind – thoughts and mindset.
"Intention + Action = Reality"  – Louise Crosby
There are disturbing and challenging events occurring in our world today and it can be too easy to allow all the bad news to hold our attention and fall into a "negative bias" mindset and attitude.
At times it might seem hard to fathom that our individual reservoir of love, compassion and kindness is enough to make a significant positive difference, yet we don't need to dig too deep to find ways that we can make that positive difference and be of benefit in the world. In being more mindful to enhance our communication and actions through the qualities and values of love, compassion and kindness, we can positively influence, inspire and uplift our fellow humanity and make in impact on our precious planet – humanity and our planet are crying out for us to do so.
There is still so much to be joyful and grateful for so as you settle into 2020, please take a little time to contemplate my message here –  become more mindful to focus your awareness on a resource-orientated mindset and the resources that you have and how you can utilize those resources to elevate and uplift yourself and others to be of even more benefit in the world.
It's not about burying our heads in the sand and ignoring our shared suffering, it is recognizing that if we allow ourselves to go too deeply down the rabbit hole of bad news and despair, that our own suffering can impact so deeply that we can potentially become immobilized with fear, anger, sadness or grief and render ourselves far less useful in the world. Of course there are people whose anger or grief has mobilized them to positive action, however, the toll of fear and anger on humanity has been far greater than the benefit.
Understanding the nature of impermanence and that we and all things are in a constant state of change reminds us that as dire as it may seem, "This too shall pass…" – the sun will rise again and there will be many more bright days, joyful moments to embrace, fun and adventure to be enjoyed, contribution to make, love to share and comfort in the knowing that nature can and will rejuvenate herself.
So, what will your chose for 2020 and the coming decade – down the rabbit hole or uplift yourself, humanity and our world?
Do you have a personal mantra that moves you through life in a resourceful way? Do share in the comments below …