The holiday season is traditionally a time for over indulgence – yep most of you will have your hand raised with me for this one however that doesn't have to mean that mindfulness and wellbeing have to be tossed out with the leftovers.
Mindfulness is the practice of bringing the mind home to its natural state of being. It is the practice of being aware and in the moment and bringing ourselves back to the present time, to the now.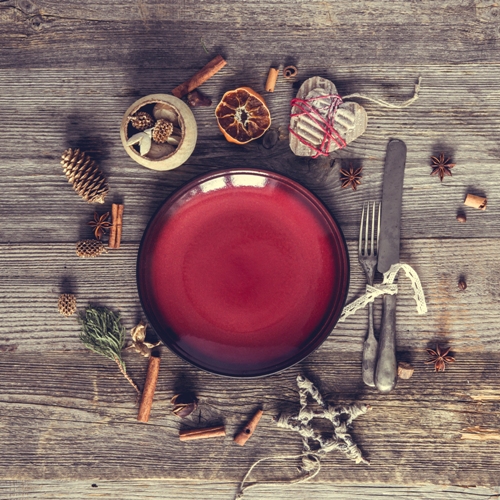 Let's face it, it's not that likely that you will sit down for every meal and eat slowly and silently during the festive season yet you may want or need to be more mindful to avoid overeating for health reasons. You might need to manage your blood sugar, thyroid function or digestive issues and certainly we could all do with managing our emotions at this time of year.
Include the five simple and easy tips below into your daily rituals to have a healthier, more enjoyable and meaningful holiday season and enhance the nourishment for your mind, body and soul.
Breath and Gratitude
Before you start preparing your food and again before you eat your meal, take a few deep breaths to calm your body and mind and give thanks for the food and all that goes with it to provide you with nourishment and satisfaction – Mother nature, the growers, farmers, animals, retail workers, chefs and all those who have helped to bring the meal to the table.
Take a seat
Sit down to eat your meal – if you are endeavouring to multi-task while you eat you will be more likely to snack and lose track of how much you are eating
Sitting down to eat can also help you to be less distracted and to calm the mind.
Silence is golden
Eat one meal a day in silence and be conscious of and observe the flavour, taste, texture, smell and color of the food
Switch off all digital distractions – no watching TV, checking messages or emails or answering calls. Eating while distracted will cause you to be less aware of what and how much you are eating
Conscious Consumption
Before you begin eating, take a moment to check in with how you are feeling and with your wants and needs – do I want that extra serving or do I need more nourishment
Chew slowly and put the cutlery down in between mouthfuls
Remember it takes about 20 minutes for the stomach to signal "I'm full" to your brain. Eat until you are about 80% full and then wait before going in for that second serve
Leave an offering
I was brought up to eat everything on my plate, you know it was the "What about the starving Indians" story. I'm the first to dislike food wastage however stuffing yourself and eating everything on your plate won't impact on the starving millions or the environment, it is more likely to impact on your waistline and hips more than anything. So how about you:-
Choose a smaller plate and manage your portion control
Leave something on your plate even if only a bite or two
Pack up leftovers for a picnic lunch
Mindfulness can enhance the experience of eating and culinary enjoyment while helping you to stay on track with your wellbeing. Focussing your awareness and attention on the present can also enhance your connection with others and now is the time for catching up with those important connections.
Isn't it time for you to embrace mindfulness for a healthier, more enjoyable and more meaningful holiday season?
Got a tip about how to eat more mindfully – do share in the comments below…