I have a new friend – An arachnid has taken up residence in our bedroom – yes, a huntsman spider has decided our bedroom is the place to be. Despite the large and hairy appearance of our newfound friend, neither my partner nor I have a fear of spiders so we are happy to cohabitate with Charlotte or Charles as the gender may be.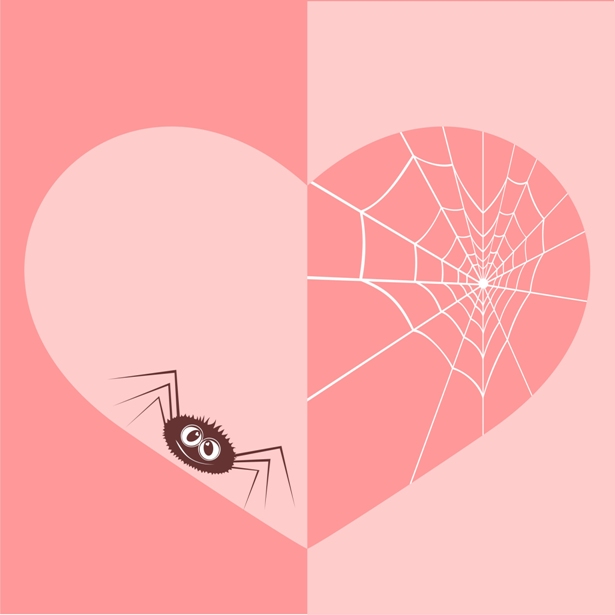 Spiders have been around for millions of years –as ancient as they are so is their source of fear and fascination and it was fascination that got my attention on Charlotte last night – OK let's agree to call her Charlotte, the namesake of the famous book, "Charlotte's Web" (although Huntsman Spiders do not build webs) and subsequent film.
Charlotte had positioned herself on the wall above the window and I had positioned myself in a comfortable vantage point tucked away under the bedcovers. With only a dim light on, I lay in quiet mindfulness, in meditation mesmerized by her stillness. To my naked and untrained eye Charlotte appeared to be doing absolutely nothing, simply being and her apparent nothingness became an object for meditation.
 "Never hurry and never worry!"   – E.B. White  – Charlotte's Web
Charlotte and I suspect her ancestors have mastered the art of patience and mindfulness, a natural instinct and vital to their survival. How else could you spend endless amounts of time in one position waiting for food or create such a spectacular work of art – a web. Although Charlotte may not have a web I felt compelled to honor her by giving her a place out here on the World Wide Web so that others may be inspired by her too.
Nature and her creatures have inspired humankind for centuries. Leonardo da Vinci had a passion for aviation driven by the possibility that humans could soar through the sky like birds. His famous invention, the flying machine (also known as the "ornithopter") was inspired by the flight of winged creatures with Leonardo noting birds, kites and bats as sources of his inspiration.
Did you ever play Leap frog as a child, practiced the yoga poses, downward dog or cobra or worn that beehive hairdo? What about our superheroes – Superman flying through the air, Spiderman scaling buildings and spinning a web around the baddies? Think about it – we are mimicking nature more than we may realize.
Whilst it may be instinct, first if not second nature to Charlotte to remain in prolonged stillness and patience, despite the fact that we are human beings, the art of being is not so easy for us and often to our detriment. Can humanity continue to survive as we become more like human doings rather than human beings? Can we continue to survive among the ever-increasing noise and destruction with decreasing resources?
What if our survival depends on our ability to spend more time in the stillness and silence, cultivating patience and mindfulness with more consistent states of a meditative mind. We need to become more resilient and live and work in more sustainable ways – that goes without question.
What about the big issues for our planet, for our environment? The very solutions to many of our everyday and global problems exist in the heart of nature –enter "Biomimicry"
So what is biomimicry you may well ask?
"Biomimicry is an approach to innovation that seeks sustainable solutions to human challenges by emulating nature's time-tested patterns and strategies. The goal is to create products, processes, and policies—new ways of living—that are well-adapted to life on earth over the long haul."  – Why Ask Nature
It is no secret that I am a nature lover with a deep respect and passion for the environment and wildlife, having spent time in the Amazon – now you're talking spiders, six African countries observing wildlife under strict guidelines for their safety and well-being and I've trained as a wildlife carer. I have spent countless hours in silence observing a plethora of species around the world and learned valuable lessons from their social interactions and other behaviours.
"It is quite possible that an animal has spoken to me and that I didn't catch the remark because I wasn't paying attention."   – E.B. White –  Charlotte's Web
The clock is ticking – if we are to build resilience and live on a planet with abundant resources, we must devote more time to our inner world, become more mindful of our precious resources, listen to nature when she speaks and act in accordance with the natural order of things.
How could your business or everyday life benefit from observing and mimicking nature?
Do you have a lesson from an interaction with another species or nature that you care to share?  Over to you in the comments below…
…. At the time of publishing this post Charlotte or perhaps it's one of her family have now taken pride of place in my office. With a big smile and warm heart I graciously accept her presence as a thank you for acknowledging her place and role in the web of life and as a nod to this post.