What is an Intention?
Intention – a determination to act in a certain way: Resolve
A thing intended; an aim or plan. What one intends to do or bring about.
A concept considered as the product of attention directed to an object of knowledge – Merriam Webster dictionary
An intention is a guiding principle for the goals that you set and when you set and align your intentions with your values, you enhance your ability to manifest your goals. Intention involves, contemplation and planning. An intention is an expression of how you want to live your life and express yourself in the world. When I think about intentions, I am always mindful about setting an intention (s) that it will be "In HARMONY for the Highest Good for the World as seen on one of the Uplift Your Soul cards.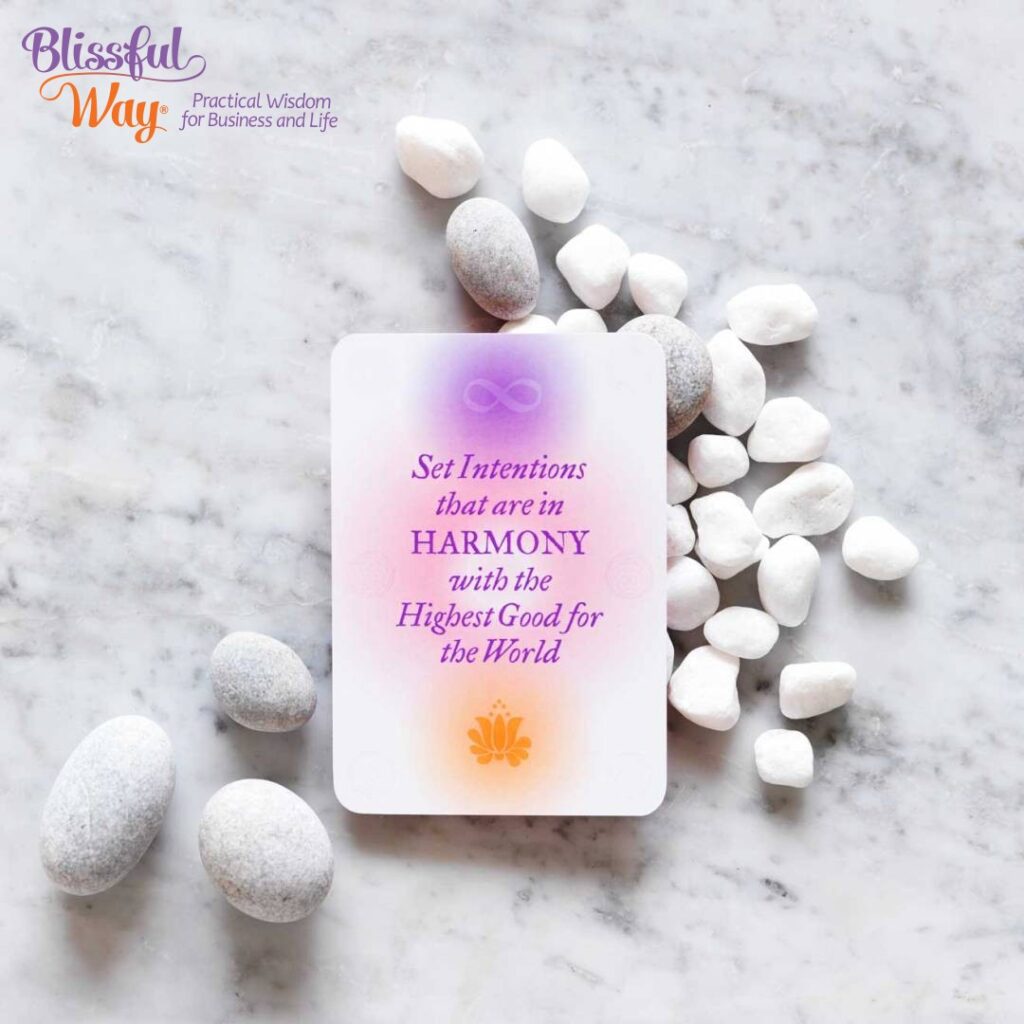 Intention + Action = Reality
Although a clear and powerful intention will influence your goals, an intention is not a goal – it's more of an attitude or principle that you want to align with your life. For example, I have an intention to make a positive difference in my daily life which in itself can manifest in a myriad of ways without a specific expectation or attachment to a specific outcome – my intention is not defined in tangible ways; quantified or qualified i.e. one of my daily-life intentions is to "radiate love and compassion" – this intention comes from the bottom of my heart and aligns with my spiritual values.
A meditative or calm state of mind and being is the ideal state in which to set your intentions for the day and beyond – in the silence and stillness you can attain clarity and pure awareness.  I generally focus my awareness on my intention (s) for the day once I have finished my morning mindfulness meditation practice. Focussing your mind on a specific intention once you are in a relaxed or meditative state can transform that intention into action and reality.
Why set intentions?
Setting an intention before diving fully into your day or week, is a powerful practice that focusses your mind and thoughts on what you want to bring about – As the Buddha said,
"We are what we think. All that we are arises without thoughts. With our thought we make the world."
Having intentions in place is akin to having a map and a GPS – "Your Greatness Positioning System" – Louise Crosby. If you are feeling out of balance or indecisive, revisit your intentions to reconnect with what matters most to you. Without the map and GPS that intentions provide, you are simply meandering through life without direction or a destination.
How are Intentions Significant?
Intentions aligned with your values offer a framework by which you can set your priorities and attract the resources; tangible and intangible that you require to achieve your goals and manifest your dreams. Setting clear intentions provides for easier decision-making, staying the course and experiencing a greater sense of balance. When you set a clear and positive intention, you make a statement of commitment and your intention becomes a magnetising energy to fuel your goals and dreams.
How to Set an Intention
You can set an intention for any aspect of your being or area of your life – mental, emotional, physical, spiritual, creative, social or financial.
Make your intentions simple and clear and state the in positive language. A strong, positive, and energized intention will attract the essence of what it is.
Align your intentions with your values, beliefs, outlook on life and how you would like to positively influence or impact upon our shared humanity and the world we live in.
Create intentions that can have a sense of evolving – if you set the same intention everyday the brain/mind can easily get bored so if like me you have an intention to be of benefit to others and you begin to see the evidence of that benefit then you could evolve that intention to being of benefit in very specific ways.
You can consider any or all of the below when you are contemplating and creating your intentions…
What is most important to me – what matters most? i.e. love, connection, community or peace
How can I best make a positive difference? i.e. I can "practice more frequent acts of kindness"
What you would I like to create or nurture in my life or for the world at large? i.e. greater peace
How would I like to be remembered? i.e. as kind and compassionate
What brings me joy? i.e. helping others to evolve and experience more joy
How would I like to evolve as a human being? i.e. for the benefit of others
What qualities do I want to nurture in myself and bring to the world i.e. strength, love, compassion and kindness
Here's 10 ideas for clear intentions to consider for 2021 and beyond…
I intend to look for and see the good in everyone and everything
I intend to "practice more frequent acts of kindness"
I intend to laugh at myself more often
I intend to keep a more open heart and mind
I intend to explore new information, enhance my knowledge and embrace new ideas
I intend to be open to greater abundance
I intend to focus on the gratitude of having rather than wanting
I intend to embrace all the little moments of joy
I intend to introduce meditation to as many people as possible
I intend to give and receive more love
My intention with writing this article has been to inspire and awaken your interest in setting intentions and to provide resource-rich information to help and support you to set about harnessing the power of intention to create the 2021 and beyond that you desire.